Random Facts
Yep, it's all true.
It's not easy to write about oneself, or at least it isn't for me. My short bio gives you an idea of where I've been and how I got here now, but it's kind of like a simple line drawing – adding some shading gives it a lot more depth and nuance. So here are a few factoids to know about me, some random brushstrokes to fill in the picture a little.
In a previous life (but this incarnation), I was a flight attendant for United Airlines. Oh, and a licensed manicurist too.
My boyfriend considers himself an authority on chocolate chip cookies and has declared mine to be the best ever.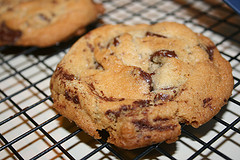 I'm a 6 on the Enneagram, which is a scarily accurate assessment of my personality. And if you don't know what the Enneagram is, I guarantee that at some point, I'll try and explain it to you.
I'm a worrier. I worry a lot, about almost everything. Typical Enneagram 6.
I love chocolate and try to eat a little bit every day – the darker and more bitter it is, the happier it makes me.
I am a fourth-generation native Californian.
I'm a crafty kind of gal. Currently, I'm on a knitting jag, but I've also been known to needlepoint, bead, cross-stitch, crochet, scrapbook, sew, and any number of other handcraft pursuits. I start a lot of stuff that gets finished – eventually – and some that doesn't.
Music is essential to my life, on a par with breathing. All kinds of music (though I confess the jury's still out on opera).
I am a recovering perfectionist who's still searching for a 12-step program.
I love New Orleans and just about anything related to that city, including the New Orleans Saints football team… Who Dat?!
In the 5th grade, I won an award in American History from the Daughters of the American Revolution.
I have outlasted breast cancer. I don't much identify with the term "survivor" and I don't like the color pink.
No matter how hard I've tried, I can't seem to actually establish an ongoing meditation practice – yet. I keep trying because it matters. These days, I'm getting a lot closer thanks to Susan Piver and her Open Heart Project.
I love to dance and I'm always happy for the opportunity to get out on a dance floor. I especially enjoy zydeco dancing. (A client once asked me if I can dance the way they do in the video. I sure can… in my dreams.)
According to my aunt Linda, the family genealogist, both Daniel Boone and Kit Carson are in my family tree.
I am an "information junkie". If you're wondering what that means to me, fabulous Molly Gordon explains it all in this blog post.
I played Fantasy Football for 11 years. I won 3 championships and narrowly lost a chance to make it 4. It made me realize that I'm very competitive, and not always in a good way, so I stopped. I miss it.
You'd never know it to talk with me, because I can hide it pretty well, but I'm an introvert.
I took 2nd place in a district-wide typing contest in high school.
I am a direct descendant of Dr. Benjamin Rush, a signer of the Declaration of Independence and one of the Founding Fathers of the United States. Dr. Rush is considered the "father of American psychiatry".
I got my first computer in 1987. It was an IBM 286, with an amber video display terminal, running MS-DOS. I was immediately hooked on technology.